New York City LGBTQ+/Same-Sex Divorce Attorney
Contact Us
Non-Traditional Marriages in New York City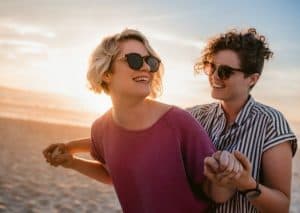 Since 2011, same-sex marriages have been legal in the state of New York. Since then, thousands of couples have been able to celebrate their marriages.
However, with all unions, there is the possibility of divorce. When same-sex married couples get divorced, the proceedings are nearly identical to that of a regular divorce.
Same-sex divorce requirements in New York are the same as with any other divorce, including prior separation and residency requirements. Make sure your rights are protected in the event of a divorce with competent with legal counsel from a skilled New York City same-sex divorce attorney. If you are looking to dissolve your same-sex marriage, contact the law office of Vivien I. Stark, P.C. today.
What Are the Same-Sex Divorce Proceedings in New York City?
When proceeding with a divorce from a same-sex marriage, spouses will have to outline their agreements on the following factors:
Property and Asset Division. Property and assets acquired before the marriage are considered separate property and will not be included in the division. Any property and assets acquired after the marriage are considered marital property and will be divided in accordance with New York's equitable division protocol. This does not necessarily mean the property will be divided 50/50.
Child custody. If there were any children as a result of the marriage, the parents will need to determine who will have custody of them, whether sole or joint. They will then need to plan a visitation arrangement.
Child support. After determining custody of the child, parents will need to decide on child support payments. Child support is usually based on a calculation using a percentage of the parents' combined income.
Spousal support. In some cases, spousal support may be necessary for a spouse to get back on his or her feet after a divorce; perhaps in the instance that it was a single earning household. Spousal support is only indicated when one person makes less than 2/3 of the other's overall income.
With all divorces, whether same-sex or otherwise, the goal of working with a same-sex family law attorney is to reach a mutual agreement and avoid court. Divorces that are uncontested usually conclude much faster than those that are. On average, an uncontested divorce may be finalized within 6-8 months. Any disagreements as to property and asset division, custody, and support will result in a New York City contested divorce that requires a significant amount of time and a lot more money.
An experienced New York City same-sex divorce lawyer can help divorcing couples decide on these arrangements to reach a fair and mutually agreed upon outcome while avoiding court. In the event that a divorce does need to be presented before a judge, a skilled New York City same-sex divorce attorney will protect and fight for their client's best interests and that of their children. Seek legal counsel from a divorce attorney with experience; inexperienced attorneys will not protect your children and assets as effectively as a lawyer who is well-verse in divorce laws.
Experienced Same-Sex Divorce Attorney in New York City
If you are seeking a dissolution of a same-sex marriage, contact the law office of Vivien I. Stark, P.C. today. She is experienced in family law and divorce and has been serving the five boroughs of New York and the surrounding communities for over 30 years.
She has extensive experience in all aspects of divorce, including same-sex marriage dissolutions. Her top priority is protecting her clients while reaching a fair and acceptable agreement between both parties. Deeply committed to her clients, Vivien I. Stark has been recognized with a superb Avvo rating as a top divorce attorney in New York and is an accredited member of the Better Business Bureau.
To discuss your needs, please contact us online or call us at (212) 349-1600 to schedule an in office or telephone consultation.
The Law Office of Vivien I. Stark, P.C. can assist you with the following areas of divorce: